01 -ISO to USB
A free and small software that can burn the ISO image file directly to the USB drives, these USB drives include USB flash drives, memory sticks and other USB storage devices, it also supports to create a bootable USB disk with Windows operating systems. Freeware.
Works most of the times, grade: 6 out of 10.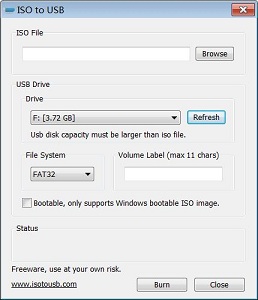 02 – Rufus
Rufus is a utility that helps format and create bootable USB flash drives, such as USB keys/pendrives, memory sticks, etc. It can be especially useful for cases where:
you need to create USB installation media from bootable ISOs (Windows, Linux, UEFI, etc.)
you need to work on a system that doesn't have an OS installed
you need to flash a BIOS or other firmware from DOS
you want to run a low-level utility
Works very well without know issues. grade: 10 out of 10.
03 – Windows USB/DVD Download Tool
http://www.microsoft.com/en-us/download/windows-usb-dvd-download-tool
Works sometimes, most of the times doesn't work. grade: 3 out of 10.
The Windows USB/DVD Download tool allows you to create a copy of your Windows 7/8 ISO file on a USB flash drive or a DVD. To create a bootable DVD or USB flash drive, download the ISO file and then run the Windows 7 USB/DVD Download tool. Once this is done, you can install Windows 7 or Windows 8 directly from the USB flash drive or DVD.
04 – UNetbootin
UNetbootin allows you to create bootable Live USB drives for Ubuntu and other Linux distributions without burning a CD.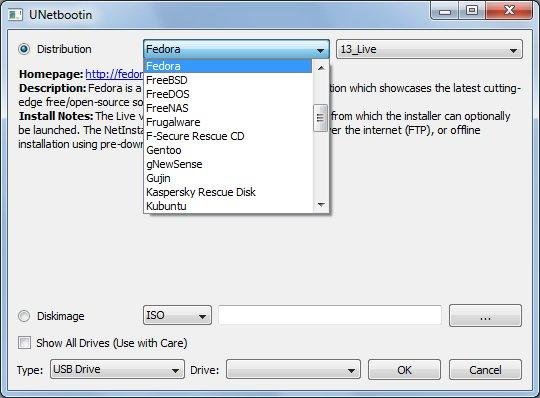 05 – Universal USB Installer
Universal USB Installer aka UUI is a Live Linux USB Creator that allows you to choose from a selection of Linux Distributions to put on your USB Flash Drive. The UniversalUSB Installer is easy to use. Simply choose a Live Linux Distribution, the ISO file, your Flash Drive and, Click Install. Upon completion, you should have a ready to run bootable USB Flash Drive with your select operating system installed. Other features include; Persistence (if available) – note that casper persistence will only work with fat16 or fat32 formatted drives.
http://www.pendrivelinux.com/universal-usb-installer-easy-as-1-2-3/
06 – PenDriveLinux
Easily install your favorite Linux operating system on a flash drive or USB key no larger than your thumb (Thumb Drive). YourPortable Linux operating system can then be taken with you, and run from any computer that can boot from the USB flash device. Bring your operating system, applications, files, email, bookmarked favorites, games and more with you. It's your very own portable operating system you can carry in your pocket.
07 – Win32 Disk Imager
Usb drive
UsbDrive
Boot
Usbboot
Rufus
Win32 usb
Boot from USB
Win32diskimager
Win32 Disk imager
ISO
IMG
Extract Image
Extract ISO
Copy ISO
Flash image
Burn image
Make usb bootable
bootable
Ubunti image flash